1) Access Your Profile– You should have been emailed a username and password for your account. If you have not received a username or password then please send an email to info@crossfitballina.com.au and request one. You can access your profile via one of the following options:
a) visting https://crossfitballina.zenplanner.com
b) going to our website www.crossfitballina.com.au, clicking on WOD from the header menu section and then selecting the members tab item (see image below).
2) Register for a Class– After you have logged into your profile you can register for a class by following these steps:
a) click the Calendar link on the left side menu,
b) select the class you wish to attend and
c) click the reserve link.
We are encouraging people to register for classes before they arrive at the gym. Registering for classes will ensure that we have enough coaches available to teach the class and this will then lead to you receiving more personal attention.
3) Sign in for a class– If you have already registered for a class then when you arrive to the gym click on your name and it will give you an option to "check in now (see screenshot below)." If you have not already registered for a class then simply click on the big plus sign that says "check in member" (see below) and start typing your name.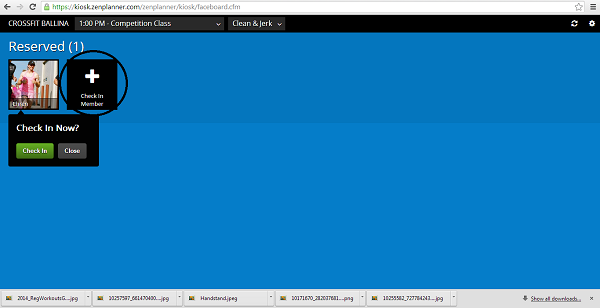 4) Record your results– If the workout that you performed could reoccur somewhere down the track then it is advisable that you enter your results. CrossFit is an evidence based fitness program and I can almost guarantee that you will reach your fitness goals if you are seeing improvements in the 10 domains of fitness that we train (cardiovascular/respiratory endurance, stamina, strength, flexibility, power, speed, agility, balance, coordination and accuracy). How do you know if you are improving? By keeping track of results. We want to make you quantifiably fitter. This will also help you because, if you know what weights you lifted last time, you will not waste sets going too heavy or too light trying to work out what weights you did last time. You can record your results through one of the following methods:
a) Clicking on your image on the gym's computer
b) Signing into your profile on your own computer or mobile device then clicking on the calendar menu item then selecting the class that you attended. When you do this you can also leave notes about the workout. For instance if you modified Fran, which is 21, 15, 9 repetitions of Thrusters at 42.5/30kg and Pull-ups, then you could indicate in the notes section how you modified the workout. For example "I used 20kg for the thrusters and a ring rows for the pull-ups." Then next time you do Fran even if you modify your workout then you can see if you have improved either through doing the workout quicker, with more weight, or by using a lighter band.
5) Review Your Results– After you have recorded your results you will be able to review them by accessing your profile and clicking on "My Profile" on the left hand side bar. It is here that you will be able to review your history and progress.
Enjoy the benefits of Zen Planner and let us know if you have any questions or need assistance with your account.
Cheers,
Ehren